Le easter egg di Wolfram Alpha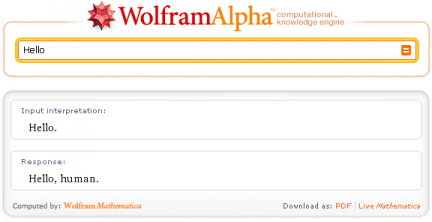 Come ogni software che si rispetti, anche Wolfram Alpha include al suo interno alcune simpatiche easter egg, letteralmente Uova di Pasqua, solitamente funzionalità simpatiche e bizzarre celate dai programmatori nelle loro creazioni.
Il nuovo "motore di ricerca" ne ha in realtà un bel po': quello che vedete in cima al post è ciò che si ottiene inserendo nel campo chiave la parola "Hello", mentre potete provare anche "What is your name?", "How many roads must a man walk down before you can call him a man?" con chiaro riferimento a Bob Dylan, "What's the answer to life?" dedicato invece a Guida Galattica per Autostoppisti.
Via | Mashable.com