My Folder To My Computer nasconde files e cartelle in modo originale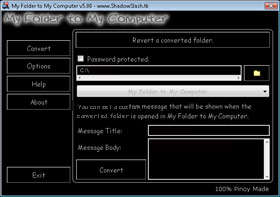 My Folder To My Computer è un software che propone un modo originale o almeno inconsueto di nascondere files o cartelle all'interno di sistemi Windows: le trasforma in collegamenti a Risorse del Computer o altre cartelle di sistema.
Il programma "converte" la cartella e imposta una password, così da aumentare ulteriormente il livello di sicurezza; una cartella che venisse trasferita su un altro computer in cui non è installato My Folder To My Computer o copiata su un supporto rimovibile manterebbe la forma di collegamento e la protezione con password.
Shadow Slash Teknologies rilascia l'applicazione come freeware, per Microsoft Windows Vista ed XP; può essere scaricata a questa pagina.
Via | TechnixUpdate.com