Linkare un preciso momento di un video di YouTube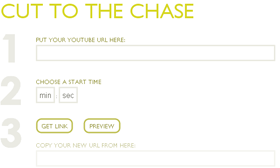 Cut To The Chase è una web application per creare link ad un preciso secondo di un video di YouTube.
Basta puntare il browser su youtubetime.com, inserire l'url del filmato, il minuto ed il secondo da cui si vuol far partire e cliccare sul pulsante Get Link per ottenere il collegamento diretto: onde evitare problemi ed errori, si può selezionare Preview per accertarsi di aver inserito i dati correttamente.
Cut To The Chase non necessita di registrazione e fornisce i collegamenti personalizzati all'istante.
Via | SimpleSpark.com