Giornalista del Time twitta per la morte di Assange
«Non vedo l'ora di scrivere la difesa del drone che avrà ucciso Julian Assange». Ed è polemica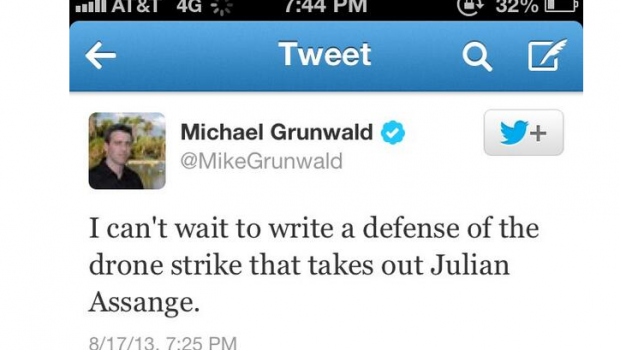 Lui si chiama Michael Grunwald, il suo account su Twitter è verificato e sulla sua "mini-bio" si legge: «@TIME Magazine senior national correspondent. Author of The New New Deal: The Hidden Story of Change in the Obama Era». Insomma, è uno che ne sa, uno importante, un giornalista del Time. Mica cotiche. Uno che ha dovuto scusarsi dopo essere stato letteralmente massacrato sul social network, al punto di dover cancellare il tweet incriminato. E poi ammettere "It was dumb". Era sciocco.
I didn't need a boss to tell me it was dumb. I mean, @blakehounshell called me derpy! Again, I apologize. Good night, everyone.

— Michael Grunwald (@MikeGrunwald) August 18, 2013
Forse, però, era qualcosa di più.
Il Tweet incriminato, cancellato ma retwittato anche come immagine centinaia, migliaia di volte in tutto il mondo, diceva:
«I can't wait to write a defense of the drone strike that takes out Julian Assange».
Ovvero:
«Non vedo l'ora di scrivere una difesa del drone che avrà ucciso Julian Assange».
Non è fraintendibile. Ed è molto più che sciocco. Non sono solo gli italiani a farsi prendere dalla smania di scrivere cose brillanti e sconvenienti su Twitter. E va benissimo, per carità. Il fatto è che non ci si può dimenticare che si è giornalisti o politici (giusto per citare due categorie particolarmente a rischio e spesso travolte dalle bufere che si scatenano sulla base di dichiarazioni scritte incautamente e palesemente senza il supporto di uno staff o anche solo di un buon amico che ti dica: «No, dai, lascia perdere». Magari anche senza aver connesso il cervello) anche quando si twitta.