Aiuta Dirk Valentine a salvare l'Europa (flash game)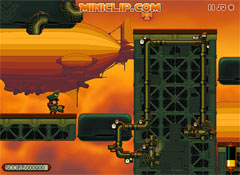 Dirk Valentine and the Fortress of Steam è un flash game online sviluppato dalla Nitrome in cui l'eroe Dirk deve distruggere la Fortezza di Vapore del Barone Battenberg che da 5 anni (è il 1897) domina l'Europa.
Si controllano i movimenti del personaggio con i tasti direzionali e si spara puntando con il mouse e cliccando; via via che si procede si trovano tips (in inglese) che suggeriscono come avanzare, colpendo i nemici con una pistola a catena che permette anche di creare scale per andare avanti quando non si riesce a farlo saltando.
Decisamente un pessimo consiglio se si ambisce a migliorare la propria produttività!