Tre comode estensioni per Songbird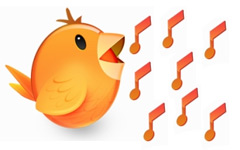 Dopo poche settimane dal rilascio della prima versione definitiva di Songbird, player multimediale di casa Mozilla (Pioneers of the Inevitable), molte estensioni sono già disponibili per espandere e migliorare le funzioni del lettore.
Per chi adora cantare o per chi vuole conoscere il testo di un brano in lingua straniera, c'è LyricMaster, che mostra le parole del pezzo in riproduzione, mentre chi vuole saperne di più sulla canzone o sull'artista che sta ascoltando è disponibile mashTape, che tramite un pannello aggiuntivo nella parte bassa di Songbird, mostra dati, notizie, foto e video relativi.
Chi non ha niente da fare o è un appassionato di quiz musicali non potrà esimersi dal provare BirdQuizz: come in un vero gioco televisivo, si deve indovinare il titolo nel minor tempo possibile a partire dall'inizio del brano, scegliendolo tra i 5 suggeriti; questa estensione è disponibile in varie lingue, tra cui l'italiano.
Via | GenBeta.com