Tape It Off The Internet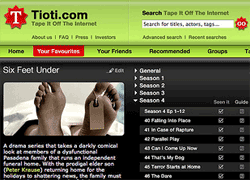 Tape It Off The Internet, o più semplicemente Tioti.com è un servizio web che permetterà di seguire i programmi televisivi che ci interessano (per ora solo americani) tramite feed RSS e BitTorrent, e scaricarli direttamente nel nostro hard disk.
Il servizio è ancora in fase di alpha testing privata quindi possiamo solo commentare quanto vediamo negli screenshot tratti dal sito.

Tra le funzionalità interessanti c'è quella di poter contattare altri utenti o visionare la loro pagina contenente favoriti, contatti, commenti e raccomandazioni. Un approccio che cerca quindi di creare una comunità intorno al sito, non solo un tramite per ottenere quello che si cerca.
Gli autori di Tioti scherzano a margine con quello che deve avere un sito oggi: tonnellate di RSS, AJAX, Ruby on Rails, API pubbliche, BETA permanente, P2P, audio e video, "Long Tail", IM, Chat, VOIP, ombre e gradienti, tagging e telefonia mobile.
Manca qualcosa?