Alcune serie storiche della CBS su YouTube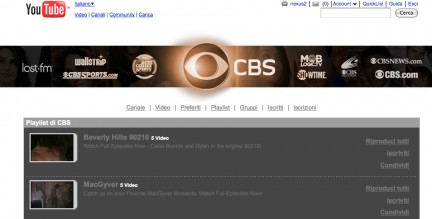 La CBS ha cominciato a mettere a disposizione su YouTube diversi contenuti presi dai propri archivi.
Da qualche giorno è possibile vedere episodi interi tratti dalle serie Beverly Hills 90210, MacGuyver, Star Trek e The Young And the Restless.
Purtroppo la visione, almeno senza usare trucchetti vari, non è disponibile in Italia. Infatti, con l'intenzione di vedere uno degli episodi di Star Trek, ho ottenuto il messaggio "Questo video non è disponibile nel tuo Paese".
Via | Downloadsquad.com