"Free culture" di Lessig, disponibile su Amazon con DRM incluso!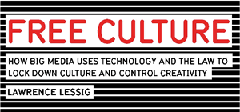 I DRM, ovvero i lucchetti digitali che impediscono la copia dei file per proteggere i diritti d'autore, sono uno degli elementi più antipatici di Internet. DVD, MP3, libri, software e CD audio li contengono. Ironia della sorte, proprio uno dei libri che ne spiega gli aspetti negativi è disponibile con DRM incluso.
Amazon ha rilascia da tempo musica senza DRM, ma lo stesso non si può dire degli ebook. Ecco, quindi, che il libro di Lawrence Lessig, "Free culture", in cui si parla della cultura libera, del software libero e dell'open source, è venduto su Amazon in un formato con DRM incluso.
Una formalità per alcuni, tranne per il fatto che il libro si scaglia contro i DRM. E, inoltre, lo stesso libro è disponibile gratuitamente sul sito ufficiale. Davvero una contraddizione per Amazon e un libro che reca come sottotitolo: "How Big Media Uses Technology and the Law to Lock Down Culture and Control Creativity". Il professor Lessig non ha risposto alle domande su questa storia, ma si attendono aggiornamento per la conferenza che terrà l'11 ottobre sul tema "Cultura libera 08".
Via | Torrentfreak.com