3 nuove opzioni per Gmail (Labs)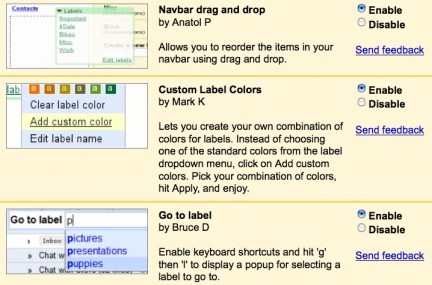 Tempo fa in Gmail furono introdotte delle feature sperimentali sotto il nome di Labs, accessibili dalla voce Setting nella versione in inglese.
Altre 3 opzioni ora sono disponibili. La prima, Navbar drag and drop, permette di organizzare col mouse gli oggetti nella barra a sinistra. Poi Custom Label Colors consente di customizzare i colori della label, se i 24 a disposizione non bastano.
Forse tra queste l'unica vera opzione utile è Go to label, se si fa un uso massiccio delle etichette. Con le scorciatoie da tastiera attivate, basta premere "g" (Go) ed "l" (Label) per vedere una piccola finestra di pop-up dove è possibile digitare le prime lettere di una etichetta per effettuare un filtro tra le proprie mail.
Via | Gmailblog.blogspot.com