Gli strani problemi di openDNS in Italia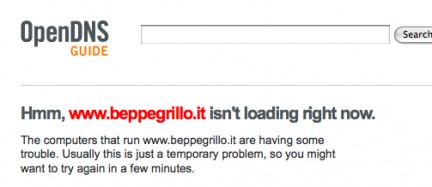 In molti, dopo l'azione del nostro governo contro PirateBay sono passati ad openDNS ed in tanti come me già da tempo avevano fatto questa scelta. Da qualche giorno, a singhiozzo, ho notato che collegandomi ad alcuni popolari siti italiani come libero.it, beppegrillo.it, html.it, enel.it, questi non vengono caricati ed una pagina di openDNS dice :

Hmm, www.beppegrillo.it isn't loading right now.
The computers that run www.beppegrillo.it are having some trouble. Usually this is just a temporary problem, so you might want to try again in a few minutes.
Dal forum di openDNS leggo che il problema non è isolato ed esiste da tempo. In molti, soprattutto tra quelli che si affidano al provider Wind-Infostrada hanno notato questo problema, attualmente non ancora risolto. Già qualcuno pensa a complotti, azioni legate al problema PirateBay.
Succede anche a voi? Avete notato altri siti non raggiungibili? Vi terremo al corrente su eventuali sviluppi.