Listen And Write: migliorare la conoscenza dell'inglese con il dettato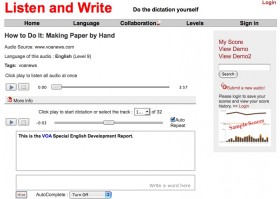 Listen and Write è una utile applicazione online che consente di migliorare la conoscenza della lingua inglese e la propria capacità di prendere appunti, di scrivere ciò che ascoltiamo.
In altre parole, si tratta di un vero e proprio dettato online in inglese. Mentre si ascolta una voce leggere notizie circa eventi recenti, bisogna scrivere nell'apposito spazio le parole udite, che verranno visualizzate nell'area superiore solamente se corrette. Si può settare anche l'autocompletamento dopo 4, 5, 6 lettere e scegliere il livello di difficoltà (da 9 a 20). Registrandosi si può tener traccia dei propri progressi grazie a comodi grafici.
Attualmente solo in inglese. Ottimo per quanti hanno poca familiarità con l'inglese parlato o interessati a migliorare la propria conoscenza della lingua.
Via | Labnol.org