Phoenix Mars comunica con la Terra via Twitter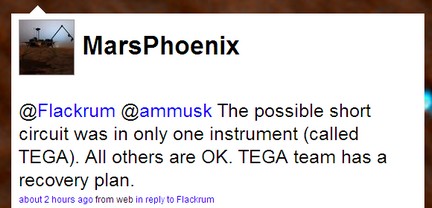 Forse sembrerà strano, perchè il microblogging non è certo una supertecnologia che alla NASA userebbero tutti i giorni per comunicare. Eppure il Phoenix Mars, atterrato da poco su Marte, comunica con la Terra "anche" attraverso Twitter.
Ovviamente non si tratta dei veri messaggi inviati dal robottino esploratore, ma di simpatici messaggi di testo elaborati dall'agenzia stampa di Veronica McGregor, che lavora alla NASA. I messaggi di Phoenix sono umoristici, brevi e simpatici come questo: "Looking forward to an exciting day on Mars; My first dig in the dirt!" (Pronto per un altro faticoso giorno su Marte: il mio primo scavo nella polvere!)
Questo rivela anche l'interesse della NASA verso il web: oltre all'enorme mole di contenuti video e fotografici disponibili per la conoscenza di tutti, ora c'è anche questo strumento per seguire in modo divertente la missione di Phoenix sul pianeta rosso. E per la prima volta un ammasso di ferro aggiunge un po' di spirito e divertimento al suo viaggio verso la conoscenza.
Via | Mashable.com