The winning bid: ricerche vincenti su eBay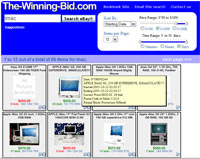 The winning bid è una utile interfaccia web per chi ama cercare tra le migliaia di aste in corso su eBay.
E' molto semplice e veloce da usare: dopo aver inserito la descrizione di ciò che vogliamo cercare, possiamo selezionare i margini della cifra che vogliamo spendere, i margini della scadenza dell'asta, e come vogliamo che i risultati siano ordinati.
I risultati saranno visualizzati come tanti box contenenti l'immagine di anteprima: tutti i dati che ci permetteranno di valutare se l'asta fa al caso nostro saranno visualizzati posizionandoci sopra con il mouse.