Le trasmissioni di Radio 105 distribuite via podcast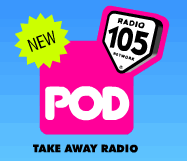 Da oggi, 10 ottobre 2005, Radio 105 distribuirà le proprie trasmissioni in formato mp3 via podcast.
I primi programmi ad essere distribuiti in formato mp3 saranno:



Best of Tutto Esaurito, condotto da Marco Galli;


Best of Zoo di 105, condotto da Marco Mazzoli, Leone Di Lernia, Fabio Alisei, Dj Giuseppe


Dopo aver scaricato il file mp3 potremo ascoltare queste due trasmissioni in qualunque orario della giornata, tutte le volte che vogliamo.
Successivamente anche le trasmissioni di Radio MonteCarlo saranno scaricabili via podcast.
[via Virgilio]