WebbAlert e The GigaOM Show, uno sguardo sul web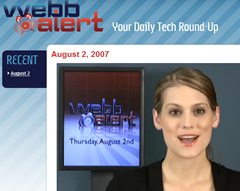 Il settore dei videoblog si sta velocemente affollando di piccoli show sempre più curati tecnicamente.
La settimana scorsa era stato lanciato The GigaOm Show, condotto da Om Malik e Joyce Kim, realizzato e distribuito da Revision3, la stessa di Diggnation: tra commenti e interviste, il taglio è decisamente adulto e con un occhio di riguardo all'aspetto economico del mondo della rete.
TechCrunch segnala il lancio di un nuovo videoblog, condotto da Morgan Webb e intitolato WebbAlert: ha un aspetto molto curato, pur se realizzato tutto in casa; avrà cadenza giornaliera dal lunedì al venerdì e tratterà di web e videogiochi.
Molto probabilmente questa videoblogger diventerà molto popolare e seguita tra i blogger, un pò come Amanda Congdon, che dopo aver lasciato Rocketboom lavora ora per ABC news e HBO: su Business Week trovate una intervista sui nuovi impegni professionali di Amanda.