Il gioco flash del venerdì: To Suta, il tostapane volante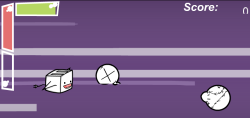 Riscirà il potente Suta a distruggere tutti i palloni ammaccati con il suo mirabolante raggio arcobaleno?
To Suta è un simpatico shot 'em up a scorrimento orizzontale ricco di colori e dalla colonna sonora molto kamen raider. Decisamente ottimo per chiudere questa lunga settimana lavorativa!