Anonymous attacca Israele con #OpIsrael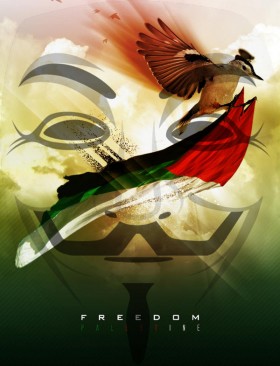 Come purtroppo saprete, la striscia di Gaza è nuovamente oggetto in queste ore di un conflitto tra Israele e Palestina. Alla guerra "reale" si è aggiunta in queste ore anche quella virtuale: se infatti Israele ha deciso di pubblicare via Twitter le campagne anti-Hamas, dal lato della Palestina si è schierato il gruppo Anonymous con la sua #OpIsrael, i quali obiettivi sono naturalmente tutti i siti web e le piattaforme appartenenti al dominio .co.il, o comunque riconducibili a proprietari israeliani.
Migliaia di indirizzi e password, più centinaia di siti web di ogni tipo, sarebbero già caduti di fronte agli attacchi portati a segno dai membri di Anonymous: siti web che vanno da quelli dei singoli cittadini a quelli governativi, compresa la Banca di Gerusalemme e il Ministero degli Esteri israeliano. Talmente tanti i siti colpiti, che il gruppo di hacker ha messo su una lista online contenente una parte dei soggetti colpiti, per un numero attualmente arrivato a oltre 9.000:
Yes, over 9,000 websites are down or defaced right now for #OpIsrael. RT @shaved_llama: @youranonnews ITS OVER 9000!

— Anonymous (@YourAnonNews) Novembre 17, 2012
Per chi volesse aggiornamenti su #OpIsrael, il punto di riferimento è ovviamente @YourAnonNews, "finestra" di Anonymous su Twitter che in queste ore sta riportando alcuni messaggi come quelli che potete vedere qui di seguito, schierandosi naturalmente a favore della Palestina:
Israel Ministry of Foreign Affairs database has been deleted | mashav.mfa.gov.il | #OpIsrael

— Anonymous (@YourAnonNews) Novembre 16, 2012
Israel, all your base are belong to us.

— Anonymous (@YourAnonNews) Novembre 16, 2012
You can't turn off an idea. #OpIsrael

— Anonymous (@YourAnonNews) Novembre 17, 2012
Sempre su Internet, come dicevamo oltre ai siti sono stati pubblicati anche altri dati di account provenienti da dirotmodiin.co.il, ma anche da comuni servizi di posta elettronica come Gmail, Hotmail e Yahoo.
Via | Thenextweb.com