Come recuperare file di Word danneggiati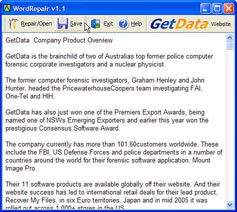 A volte o per incuria nostra, o per un malaugurato scherzo del destino, si può capitare di fronte alla necessità di dover utilizzare dei file *.doc, ma che questi ultimi risultino danneggiati. Spesse volte questo fatto si traduce in ore di lavoro sprecate, perdita di capelli aumentata del 45% e nervosismo diffuso.
Ormai si può dire che siamo fin troppo abituati a questo tipo di errori:

"The document name or path is not valid. Try these suggestions. Check the file permissions for the document or drive. Use the File Open dialog box to locate the document."
"Word cannot open the document."
"When you attempt to open a Microsoft Word 97 document into Microsoft Word version 6.x or 7.x, the document contains garbage characters."
Per fortuna nostra ci viene in aiuto Wordrepair, un utilissimo programmino freeware il cui scopo è proprio quello di recuperare dei testi danneggiati e risalvarli come file di testo funzionanti...insomma una piccola utility da tenere sempre installata per ogni evenienza!
[Via freewarelist]