Per McAfee SiteAdvisor Dada.net propone offerte ingannevoli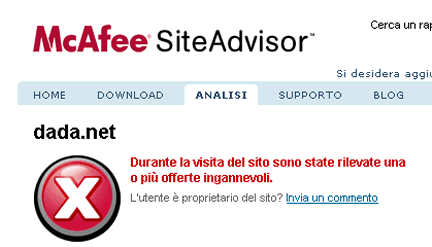 Vi ho già parlato di McAfee SiteAdvisor presentandovelo come un utilissimo strumento per difendersi da spyware, posta indesiderata, virus e frodi su internet.
Ovviamente dietro il SiteAdvisor di McAfee, così come Scandoo, c'è una community di utenti che valuta i siti che naviga.
Il sito di Dada.net, importante figura del web italiano che proprio la settimana scorsa ha acquistato Splinder, è classificato come sito pericoloso.
Alla base di questa sconcertante valutazione ci sono tre voti negativi attribuiti al sito. Due dei tre voti sono stati assegnati da un revisore con rank 3/9 mentre il terzo è stato assegnato da un membro dello staff di SiteAdvisor con rank massimo.

I voti sono stati assegnati a seguito di esperienze negative durante gli acquisti su Dada.net.
I commenti del revisore a rank 3/9 sono:



Why don't they make it red!?


this is not a good site


Il commento del membro dello staff di SiteAdvisor è:
When we visited this site we found one or more misleading ringtone offers. For example, we found an offer where a user was promised a 'free' ringtone -- but accepting that offer would automatically enroll the user in a monthly subscription.
Quando abbiamo visitato il sito abbiamo trovato una o più offerte su suonerie che inducevano ad errore. Per esempio abbiamo trovato un'offerta che prometteva suonerie gratuite -- ma accettando questa offerta l'utente sottoscriveva automaticamente un abbonamento mensile al servizio.
Si aspetta ora una reazione di Dada che presumibilmente chiederà la rimozione dell'attributo di sito che propone offerte ingannevoli.