Aggiungi automaticamente bottoni PayPal alle tue email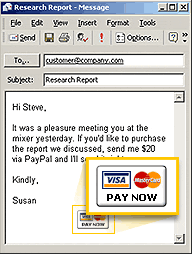 PayPal ha messo a punto un tool che permette di inserire automaticamente nelle proprie email il noto bottoncino per i pagamenti.
Cliccando sul bottoncino il cliente che ha ricevuto l'email sarà indirizzato su un'apposita pagina e potrà dare il via alla transizione economica.
Il tool rilasciato da PayPal funziona solo con Outlook ed Outlook Express. In particolare il programma funziona correttamente con queste versioni di client e s.o.: Outlook 2000, Outlook 2002/XP, and Outlook 2003 using Windows 98, Windows 2000, and Windows XP.
[via msdn.com]