Biglietti da visita Windows Live Messenger gratuiti!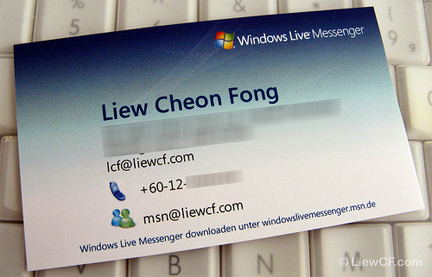 Ve lo dico subito….CORRETE!
Ci sono soltanto 1.058 833 799 sets (da 15 biglietti ciascuno) disponibili e sono tutti gratuiti!
A distribuirli non è la Microsoft ma il sito tedesco di Icecards, azienda specializzata in biglietti da visita gratuiti ma "brandizzati".
Il sito italiano ha due promozioni soltanto, una con la Braun (terminata) e una con la Puma (ancora attiva).
In foto potete ammirare uno dei biglietti ricevuti da Cheon Fong, autore del (famoso) liewcf.com e primo full-time blogger malesiano.
Fong ci informa che la spedizione è andata a buon fine e che i biglietti sono stati stampati ottimamente.
Due raccomandazioni prima di effettuare l'ordine:

1) Il sito è completamente in tedesco. Da quello che ho capito io (e da quello che dice chi ha ricevuto i biglietti) non c'è scritto nulla di particolare ma se qualcuno di voi parlasse la lingua in questione lo invito a lasciare un commento con relativa traduzione. Cosi aiutiamo tutti.
2) Il sito italiano garantisce la privacy e scrive che non userà i dati ricevuti per invio di materiale pubblicitario. Detto questo, sta a voi decidere se effettuare l'ordine o meno.
Ripeto, il prodotto è gratuito e le card dovrebbero già essere alla seconda ristampa ma non ho altre informazioni a riguardo (tranne la testimonianza di diversi blogger stranieri).
Se avete dubbi potete leggere le faq ed eventualmente scrivere alla Icecard ma di più non posso consigliarvi. Fate voi...
UPDATE: Ecco le istruzioni (in Inglese) che ho trovato in un commento di liewcf
The whole process is:
1.First, visit https://cluster.icecards.com/msn2006de/first.aspx
2.Then click a link to https://cluster.icecards.com/msn2006de/selectdesign.aspx
3.Then click on the Window Live Messenger Card
4.Select one of the four designs available.
5.Fill the form with details you want to appear on the namecard
Name * - Your name you want to appear on the namecard
Straße - Your home address
PLZ / Stadt - Your postal code and city
E-mail Adresse * - Your road address
Telefon * - Your phone number
Messenger Adresse * - Your Live Messenger address
6.Then click 'Weiter>'
7.Next, click 'Weiter>'
8.Fill another form with your real details like real postal address so that you receive your free namecards safely
Vorname* / Name* - Your name
Straße* - Your home address
PLZ* / Stadt* - Your postal code and city
Telefon* / E-Mail* - Your phone number and email address
Geschlecht - Your sex, weiblich (female) or männlich (male)
Geburtsdatum* - Your date of birth
9.Click 'Senden>'
10.Type in your friends'name and email address [you can skip it BTW], click 'Senden>'
That's all.