Film classici su Google Video da scaricare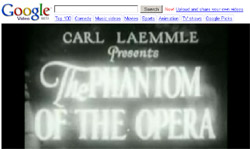 Su Google Video potete trovare anche molti film che, decaduto il copyright per limiti temporali, possono essere distribuiti e scaricati gratuitamente.
Vi segnalo un post di Coolz0r che propone un elenco di alcuni di questi film.
In puro stile "Fuori Orario" per questo venerdì sera vi proporrei "Phantom of the Opera" e "Night of the living dead".
Buona visione.