La chiavetta USB Microsoft non arriverà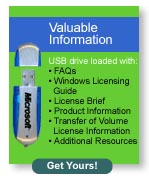 Thank you for your interest in the Mystery Solved Windows® licensing promotion. We've received your request for more information to help clarify Microsoft® Windows Desktop Licensing pre-loaded on the USB drive. Unfortunately, this Mystery Solved promotion was available in the U.S. only and while supplies last.

Please utilize the online alternative today, by simply downloading* the Windows Desktop Licensing reference files directly at:
I dubbi sulla possibilità che la Microsoft inviasse la propria pen drive anche in Italia erano fondati.
Circa 4 ore fa, con l'email riportata sopra, la Microsoft comunicava, in inglese, ai propri utenti italiani che non avrebbero ricevuto la chiavetta contenente materiale informativo sulla brevettebilità del software.
Il problema è che la Microsoft non ha capito che agli utenti italiani non interessava il materiale informativo sulla brevettabilità del software bensì la chiavetta!
Qualcuno ha intenzione di rispondere all'email facendo presente la situazione?
Ne parlano anche gli amici di GadgetBlog.
Grazie a Neogene e Lord Zarcon per la segnalazione (comunque anche il sottoscritto ha ricevuto l'email :-P )