Dave Winer su Rocketboom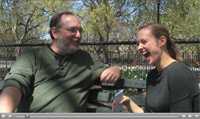 Su Rocketboom, il videoblog di Amanda Congdon che cerca di replicare il successo di Teleblogo, c'è una interessante intervista a Dave Winer, uno dei padri del blog, dei feed RSS, del podcasting, dell'OPML (devo andare avanti?).
Una cosa che volevo sottolineare e porvi come riflessione è questa frase di Winer:
"Ora le persone hanno gli strumenti (blog, podcast, videoblog) per fare quello che prima richiedeva milioni di dollari.
Ma non vogliamo che i professionisti smettano di fare quello che fanno: vogliamo che sentano la pressione, la competizione, per essere creativi.
Gli amateur non sono piccoli professionisti, fanno quello che fanno per il piacere di farlo."
"Writers who work for others have less integrity to offer than those who do it for love"
Che ne pensate in proposito?