Zfone, VoIp veramente riservato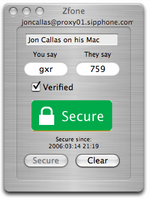 Nuovo progettino di Zimmerman (qualcuno lo conoscerà per quell'utilità di poco conto chiamata PGP).
L'oggettino in questione di chiama Zfone e non è altro che un protocollo per rendere le telefonate VoIp fatte su protocollo SIP sicure e private.
Per ora stato realizzato un software ad hoc per sfruttare l'idea (attualmente disponibile per Linux ed Os X), ma è già stata richiesta la standardizzazione del protocollo e rilasciato un toolkit per permetterne l'integrazione nei vari client SIP attualmente disponibili sul mercato.
L'idea è quella di sfruttare direttamente la rete p2p senza quindi passare da server contenenti chiavi PKI, per amor di precisione (non essendo per nulla un esperto dell'argomento) cito direttamente un estratto dal sito:
ZRTP protocol has some nice cryptographic features lacking in many other approaches to VoIP encryption. Although it uses a public key algorithm, it does not rely on a public key infrastructure (PKI). In fact, it does not use persistant public keys at all. It uses ephemeral Diffie-Hellman with hash commitment, and allows the detection of man-in-the-middle (MiTM) attacks by displaying a short authentication string for the users to read and compare over the phone. It has perfect forward secrecy, meaning the keys are destroyed at the end of the call, which precludes retroactively compromising the call by future disclosures of key material. But even if the users are too lazy to bother with short authentication strings, we still get fairly decent authentication against a MiTM attack, based on a form of key continuity....