Reddit, Forusquare e HootSuite sono offline, colpa di Amazon AWS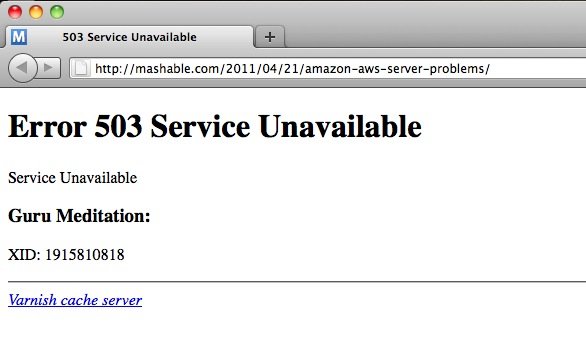 Amazon AWS ha qualche problema e Reddit, Foursquare, HootSuite e forse qualcun altro (Tumblr?), ne risentono. Il fatto buffo è che, consultando Mashable per avere qualche informazione in più, mi sono imbattuto in un errore 503: immagine da epic fail o demotivational poster, decidete voi.
Nel momento in cui scrivo, l'unico che sembra reggere è Foursquare, mentre sia Reddit sia Hootsuite recano le classiche immagini del tipo "abbiamo un problema". Reddit è ancora più eloquente:
Amazon is currently experiencing a degradation. They are working on it. We are still wating on them to get to our volumes. Sorry.
Secondo Mashable, tornato regolarmente online dopo il "sighiozzo", i problemi sono relativi ad Amazon Elastic Compute Cloud, Amazon Relational Database Service e Amazon Elastic Beanstalk, come da pannello Amazon AWS.
Al momento non si conoscono i motivi dei "problemi di connettività" riscontrati.