Il web è la prima fonte dell'informazione negli Stati Uniti dal 2010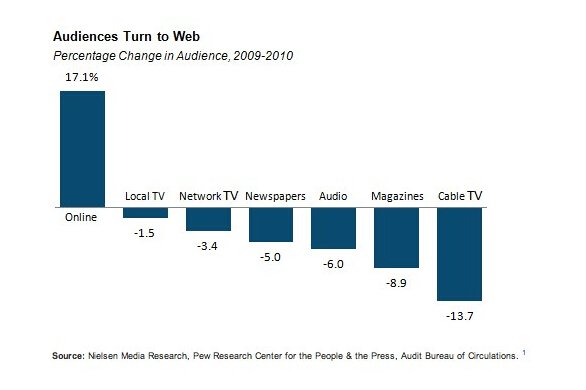 Se il 2009 si era concluso col sorpasso degli e-book sui libri, il 2010 ha sancito la vittoria del web sulle altri fonti dell'informazione: negli Stati Uniti, per la prima volta, internet è il medium più seguito. Calano le televisioni, le radio, i quotidiani e i periodici. È un "trend" destinato ad approdare al più presto in Europa.
Il report è stato pubblicato dal Pew Research Center for the People & the Press, un ente statunitense di ricerca che redige annualmente un documento sullo stato dei medium. Nel periodo dalla fine del 2009 a quella del 2010, il web ha sorpassato tutte le altre fonti dell'informazione (in calo progressivo) crescendo del +17,1% circa.
Di pari passo con la crescita dell'audience di internet, sono cresciuti gli investimenti pubblicitari sul web. L'inizio del 2011 è coinciso con una crescita del 7% del mercato mobile, apparentemente grazie all'acquisto dei tablet. Il mercato statunitense è profondamente diverso da quello italiano: la transizione non sarà immediata.