Blue Screen of Death, su Mac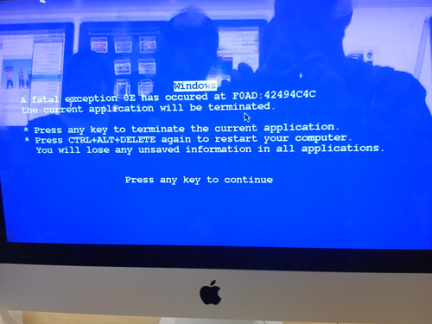 Lo schermo blu della morte, su Mac? Possibile? Eppure l'immagine di questa Blue Screen of Death su Mac parla chiaro, tanto da farla balzare agli onori della cronaca grazie a Digg. Per chi l'ha vista tante volte sul proprio PC, e per chi si è sentito trattare con spocchia da parte dell'Apple fanboy di turno, potrebbe essere la vendetta tanto sognata.
Fake o realtà? Forse una via di mezzo: in ogni caso tranquilli, niente flames. Gli utenti Mac non si allarmino troppo: l'errore potrebbe essere stato generato tramite programmi di virtual machine come Parallels Desktop piuttosto che VirtualBox, assolvendo quindi la macchina di Cupertino. Però... bisogna ammetterlo, il classico "sorrisino sotto i baffi" questa immagine la genera...