Google Maps per World of Warcraft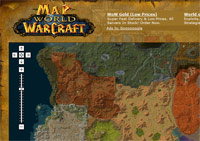 Il rilascio delle API di Google Maps ha permesso a tantissimi sviluppatori di realizzare le implementazioni più impensate.
Se tra i nostri lettori quotidiani c'è qualche giocatore di World of Warcraft, non potrà che apprezzare questa versione dinamica e navigabile della mappa di questo mondo "virtuale".
Purtroppo attualmente le tante caratteristiche visualizzabili sono disattivate, per ovviare all'intenso traffico generato dall'effetto Digg!