Gmail: con Chrome gli allegati si possono salvare via drag and drop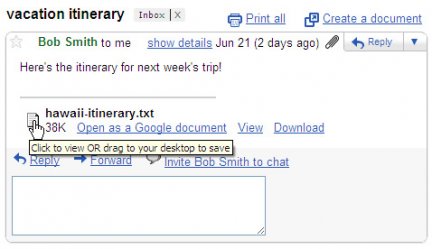 Mentre già da qualche mese Gmail permette di inserire allegati trascinandoli da una cartella del proprio PC alla finestra del browser, lo stesso non era fino a questo momento per l'operazione inversa, quando cioè si vuole salvare qualche allegato sul computer.
Il blog ufficiale Gmail ci informa che questa possibilità esiste ora almeno per chi usa come browser Chrome. Come tante delle novità introdotte nelle proprie applicazioni, il drag and drop "all'inverso" degli allegati dovrebbe arrivare nel futuro anche sugli altri browser, anche se Google non ha ancora promesso nulla in tal senso.