Quanto è sicura la vostra password?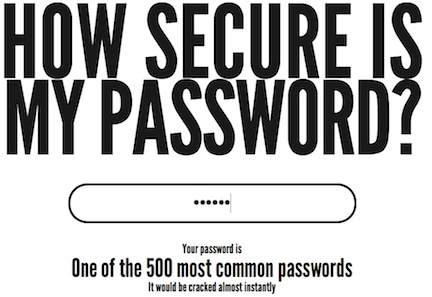 Quanto è sicura la vostra password? Ce lo dice Howsecureismypassword, su suggerimento di WelshView. Basta iniziare a digitare i caratteri della password, ed istantaneamente viene dato il tempo che occorre per craccarla. Il lato negativo di tutto ciò è che non si conosce l'algoritmo sul quale si basa il calcolo, ne ovviamente se i dati vengano memorizzati o meno. Ovviamente nessuna vieta di inserire una password simile ma non uguale a quella che usate: paranoia di sicurezza all'ennesima potenza.
Piccolo concorso dove non si vince nulla. "Your password is one of the 500 most common passwords. It would be cracked almost instantly": vediamo chi indovina i sei caratteri che ho usato per ottenere un giudizio così pessimo. Non valgono insulti ed ingiurie rivolte alla mia persona, sia chiaro!