Su Twitter arriva l'account ufficiale del Principe William e Kate
Finalmente il Principe William e Kate sono sbarcati ufficialmente su Twitter: ecco l'account ufficiale di Kensington Palace.
Alla fine anche il Principe William e Kate sono approdati su Twitter. Ufficialmente, intendo. Ebbene sì, da stamattina è online l'account ufficiale del Principe William e Kate (e anche del Principe Harry). L'account lo trovate presso l'indirizzo https://twitter.com/KensingtonRoyal: l'account di casa Kensington Palace è un account verificato, quindi ha il classico segno di spunta azzurro, quello che indica l'ufficialità di un account verificato su Twitter. Nel momento in cui vi scrivo siamo arrivati a quota undici tweet, ma l'account è appena stato aperto, quindi diamogli il tempo di crescere. Per quanto riguarda il resto delle statistiche, siamo a 68 following, 15.900 follower (il numero è assai cresciuto, nell'articolo di Mashable eravamo ancora a 6.500 e cresce di minuto in minuto) e 2 preferiti.
L'account Twitter del Principe William e Kate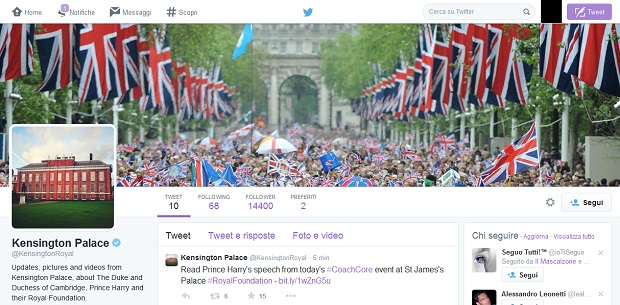 Il nome dell'account non è certo un caso: Kensington Palace è la casa del Duca e della Duchessa di Cambridge, quindi la scelta è stata azzeccata. Incuriosita sono andata a vedere chi c'era fra i following e ho trovato l'account del Primo Ministro inglese, diverse associazioni per la salvaguardia dell'ambiente e degli animali, l'account nell'NBA, Hillary Clinton, The White House, Clarence House, BritishMonarchy, The Duke of York, il British Museum e svariate altri enti.
In particolare da segnalare il fatto che Kensington Palace segua @clarencehouse, il quale fornisce aggiornamenti, foto e video relativi al Principe del Galles e alla Duchessa di Cornovaglia e @britishmonarchy, che propone tweet in merito alle attività di Buckingham Palace e della famiglia reale in generale. Entrambi questi account hanno postato tweet di benvenuto per il neonato account:
Welcome @KensingtonRoyal, the official twitter account for The Duke and Duchess of Cambridge and Prince Harry pic.twitter.com/sYEtbdajv6

— BritishMonarchy (@BritishMonarchy) 14 Gennaio 2015
e
A warm welcome to @KensingtonRoyal - Follow for official updates about The Duke & Duchess of Cambridge & Prince Harry pic.twitter.com/dbvDRDiVjr

— Clarence House (@ClarenceHouse) 14 Gennaio 2015
Ricordiamo come in precedenza la Regina Elisabetta avesse postato il suo primo tweet, nonostante il fatto che non abbia un account personale. Infatti aveva usato l'account @britishmonarchy, ecco il tweet in questione:
It is a pleasure to open the Information Age exhibition today at the @ScienceMuseum and I hope people will enjoy visiting. Elizabeth R.

— BritishMonarchy (@BritishMonarchy) 24 Ottobre 2014
Adesso dobbiamo solo aspettare e vedere che cosa posteranno su questo account il Principe William, Kate e il Principe Harry. Ma ecco i primi tweet di @kensigtonroyal:
Hello from Kensington Palace! Welcome to our new Twitter account.

— Kensington Palace (@KensingtonRoyal) 14 Gennaio 2015
This account represents The Duke and Duchess of Cambridge and Prince Harry - follow for updates on their work and the #RoyalFoundation

— Kensington Palace (@KensingtonRoyal) 14 Gennaio 2015
This account represents The Duke and Duchess of Cambridge and Prince Harry - follow for updates on their work and the #RoyalFoundation

— Kensington Palace (@KensingtonRoyal) 14 Gennaio 2015
Prince Harry and @carmeloanthony will shortly meet the #RoyalFoundation #Coachcore graduates for a Royal graduation ceremony

— Kensington Palace (@KensingtonRoyal) 14 Gennaio 2015
Prince Harry and @carmeloanthony will meet London and Glasgow #Coachcore graduates at St James's Palace pic.twitter.com/NPiwa8R3bf

— Kensington Palace (@KensingtonRoyal) 14 Gennaio 2015
#Coachcore, launched in 2012 by the #RoyalFoundation, trains young people to become sports coaches and inspire others in their communities

— Kensington Palace (@KensingtonRoyal) 14 Gennaio 2015
.@carmeloanthony meets young #Coachcore graduates - the @NBA are supporting #RoyalFoundation's #Coachcore programme pic.twitter.com/iTcKmWNlZW

— Kensington Palace (@KensingtonRoyal) 14 Gennaio 2015
33 #Coachcore apprentices, who have struggled to find positive prospects, have now become professional sport coaches pic.twitter.com/nojESMlmTZ

— Kensington Palace (@KensingtonRoyal) 14 Gennaio 2015
Read Prince Harry's speech from today's #CoachCore event at St James's Palace #RoyalFoundation - https://t.co/v4ebKvga93

— Kensington Palace (@KensingtonRoyal) 14 Gennaio 2015
Prince Harry: "Completing the #Coachcore programme has, I know, not been easy - but then trying to be the best you can be isn't easy"

— Kensington Palace (@KensingtonRoyal) 14 Gennaio 2015
Via | Mashable
Foto | Screenshot dall'account ufficiale di Kensington Palace