Rock the Quote: il database di citazioni più lunghe del mondo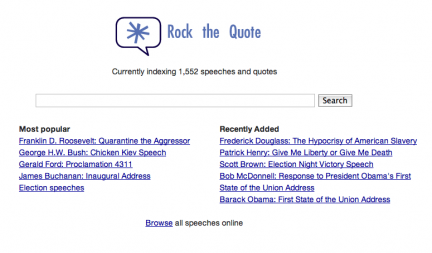 A cosa serve un database di semplici citazioni di una riga a due (battute fulminanti, sbottate esilaranti), quando potete avere dei discorsi interi? Rock the Quote serve a questo: è lo slow food delle quotations.
A parte gli scherzi, fra i 1552 discorsi ad ora indicizzati nell'archivio del sito, c'è davvero del materiale interessantissimo, che probabilmente non visionereste altrimenti: si va dai discorsi di insediamento di presidenti USA impopolari degli anni '80 fino al cultissimo "Discorso dei polli di Kiev", di cui è titolare George W. Bush.
La grafica del sito è semplicissima e funzionale, ridotta all'osso se non fosse per l'onnipresente tastino per condividere su Facebook. Non è chiaro se l'archivio sia aperto a contributi dal basso, da parte degli utenti. Comunque il numero dei discorsi pare destinato a salite. Non sarebbe male fare qualcosa del genere il lingua italiana. Sapremmo già chi sarebbe il più gettonato, nell'apposito menù sulla sinistra, in home page.