Facebook: arriva FrontierVille da Zynga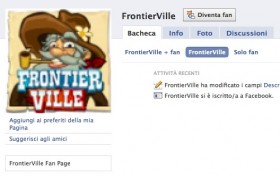 Su Facebook sta arrivando FrontierVille, parola di Tech Crunch. Più che una buona notizia sembra quasi un "avvertimento".
Entrando con un Developer Test Account, si dovrebbero vedere i primi screenshot. Descrizione classica, secondo questi tipi di giochi:
Howdy Pardner! Let's explore a new life on the frontier. You gotta chop trees to construct buildings, clear land to raise livestock, plant crops, and raise a family. The untamed wilderness is hazardous, but your fellow pioneers are there to help.
Niente di più, niente di meno che l'impostazione di FarmVille, secondo il collaudato schema di Zynga. Per tutti coloro i quali hanno un account Facebook, c'è da aspettarsi la solita inondazione di inviti e regali di ogni genere. Se fossi Fabio De Luigi nell'imitazione di Carlo Lucarelli potrei dire: "Paura eh".
Update: un amico mi ha passato una immagine che getta altre ombre sul funghetto di Super Mario...