Youtube: 5 video divertenti dedicati a The Walking Dead
Dedicato alla quinta stagione di The Walking Dead, ecco cinque video divertenti di Youtube basati sul telefilm tratto dai fumetti di Robert Kirkman.
Bentornati al nostro appuntamento con le classifiche di Downloadblog. In onore della quinta stagione di The Walking Dead, oggi ho deciso di fare un giro su Youtube e cercare dei video divertenti basati proprio su The Walking Dead. Diciamo che su Facebook ci sono un sacco di pagine o gruppi pieni zeppi di meme a base The Walking Dead, magari prima o poi dedico una classifica anche a loro. Qui però andiamo a vedere cinque video su Youtube divertenti, anche se mai divertenti come il trailer di The Walking Dead 5, ovvero "Rick va a Washington" o "Rick & Company a spasso per i boschi".
Tutte le ultime news su The Walking Dead le trovate dai nostri amici di TvBlog.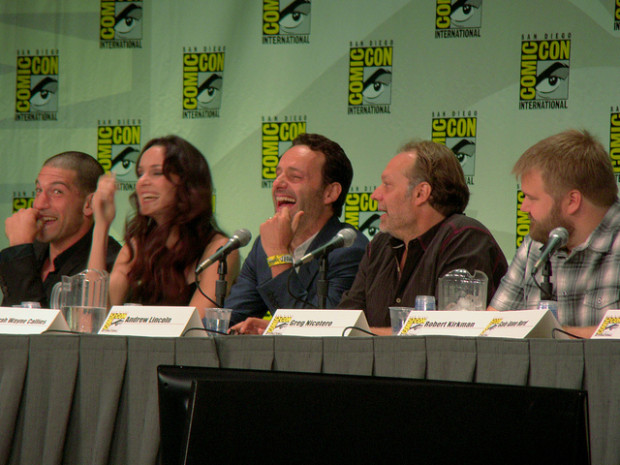 Un video di Youtube con foto pazze del cast di The Walking Dead
Cominciamo doverosamente con un video che raccoglie alcune foto pazze fatte dal cast di The Walking Dead: vediamo Andrew Lincoln, Norman Reedus, Steven Yeun, Melissa McBride vestiti in maniera strana e bizzara, in pose buffe, mentre si divertono e ridere. E' curioso vedere quanto possano essere differenti gli attori dai personaggi che interpretano.
Doctor Who e The Walking Dead?
Cosa unisce il Doctor Who con The Walking Dead? Beh, il Governatore direi, ecco perché in questo video divertente di Youtube nella casa del Governatore compare una foto del Dottore. Oltre ad una serie di dialoghi divertenti ed improbabili, ad un balletto di Hershel e a scene di seduzione quanto mai imbarazzanti.
Alcuni meme di The Walking Dead raccolti in un video su Youtube
Abbiamo parlato dei meme di The Walking Dead su Facebook, ma qualcuno ha pensato bene di raccogliere queste vignette anche in un video di Youtube, tutto da guardare e da ridere. Diciamo che nessun personaggio di The Walking Dead è esente da tali meme, ultimamente però vanno per la maggiore quelli con Carl "Norris" e Rick.
The Walking Dead + Dumb Ways to Die = Parodia assicurata
Provate a sommare The Walking Dead a Dumb Ways to Die e quello che salta fuori è questo video parodia che ho trovato su Youtube. E' una di quelle canzoncine che ti rimane in testa, sono sicura che quando comincerò a vedere la quinta stagione ogni volta che verrò il gruppetto di protagonisti mi verrà in mente questo video, la canzoncina e il balletto con gli zombie.
The Walking (Talking) Dead: la parodia
Terminiamo infine la carrellata con questa nuova parodia dedicata a The Walking Dead, il cui video è stato postato su Youtube. Diciamo che bisogna un attimo conoscere l'inglese per apprezzarla, ma la parte in cui gli zombie parlano a Rick nascosto sotto il carroarmato è veramente carina, non potrò mai più rivedere quella scena senza ricordarmi di questa.
Foto | vagueonthehow