Google Reader: template speciale per i feed di foto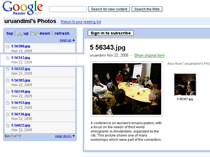 "Why should text have all the fun?". Se l'è chiesto il team di sviluppatori di Google Reader.
In effetti gli attuali news aggregator sono pensati e sviluppati per feed che contengono solo testo o al più un'immagine "di rappresentanza". Niente, o quasi, era stato fatto per feed di sole foto come quelli messi a disposizione da Flickr.
Ed ecco che ora Goolge Reader dispone di una particolare interfaccia pensata appositamente per i feed di sole foto. Mai come in questo caso dare un'occhiata ai vari esempi vale più di mille parole.
Attualmente sono supportati i feed dei seguenti servizi di foto hosting: Buzznet, Flickr, Fotki, Smugmug, Textamerica.com
[via micro persuasion.. anche se il post non c'è più :P]