MakeMeBabies ti mostra come sarà il tuo bambino!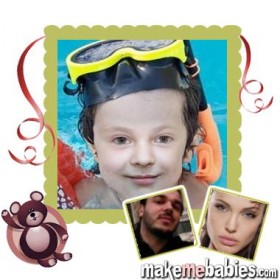 MakeMeBabies.com è un sito divertente. Vi chiedete come potrebbe essere un figlio nato da voi e dalla vostra compagna o compagno? Oppure cosa nascerebbe da una notte di fuoco con Angelina Jolie o con Brad Pitt (dipende dai gusti)?
Con MakeMeBabies basta, una volta registrati, fare l'upload della foto del proprio viso e scegliere un partner tra una carrellata di star o caricando la fotografia dal proprio hard disk. Il risultato sarà la foto di un bel (!?) bambino, generata dalla combinazione dei due visi. Sarà anche fornito il codice HTML da copiare ed incollare sul proprio sito. Esiste anche una versione per Facebook e Myspace.
Per la generazione del viso viene usata una tecnologia, chiamata Baby Morphing, che tiene conto dei caratteri somatici delle persone nelle due foto:

Baby Morphing, a new technology developed by Luxand, helps parents, couples and friends to see what their baby would look like based on their pictures alone. The technology only needs photos of the couple's faces to generate a quality picture of their baby. The technology makes it really easy for couples to create and share babies' pictures. Yet, Baby Morphing does not stop there, and allows making pictures of babies by taking only one photograph and mixing it with a stock photo of a celebrity or a member of a dating site, depending on the application.
Il mio bambino generato, per fortuna, è tutto sua madre Angelina...
Via | Mashable.com