I robot comunicano con gli umani via Firefox 3 Beta 5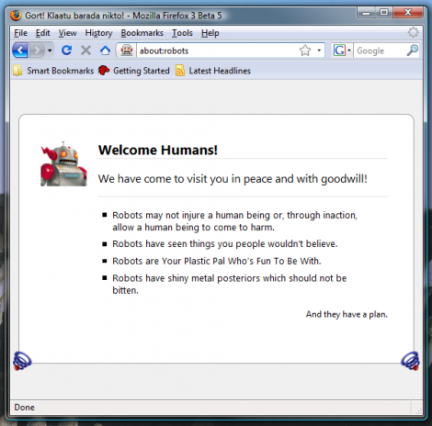 Sarà pure una beta, ma forse proprio per questo nell'ultima versione rilasciata di Firefox 3 i programmatori del celebre browser si sono divertiti ad inserire una simpatica easter egg, visualizzabile digitando nella barra degli indirizzi la stringa about:robots.
Si aprirà la pagina riportata nell'immagine sovrastante, all'interno della quale è contenuta una citazione al film The Day the Earth Stood Still (in Italia Ultimatum alla Terra), che ha reso celebre la frase Klaatu, Barada, Nikto!. Visto che la pellicola è pur sempre risalente al 1951, se non sapete di cosa si sta parlando potete dare un'occhiata al video proposto dopo la pausa.

Via | Firefoxfacts.com