The Hat funzioni random da una lista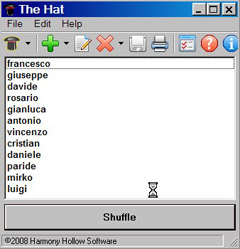 Una delle applicazioni peculiari dei computer è quella di poter scegliere o ordinare elementi in maniera casuale (random) da una lista data.
Se a livello di programmazione la funzione random è molto usata e conosciuta, a livello utente è difficile reperire software che effettuino questo genere di operazioni da una lista di elementi editata dell'utente stesso.
The Hat 2.3 è un software freeware che da una lista impostata dall'utente può effettuare tre diverse operazioni su una lista di elementi: estrarre un elemento, estrarre coppie di elementi, ordinare la successione degli elementi della lista. Il funzionamento del programma è semplice, l'interfaccia utente è intuitiva e non richiede che pochi istanti di pratica.
Via | Programurl.com