Songsterr, canta e suona la chitarra online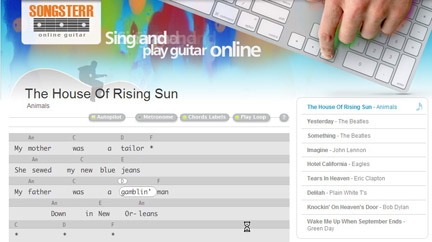 Songsterr è un'applicazione 2.0 per cantare, suonare e imparare la chitarra online. E' ancora un proof of concept, ma è già possibile esercitarsi con nove famosi brani internazionali tra cui Yesterday, The House of the Rising Sun, Hotel California, Imagine.
Il funzionamento è semplicissimo, con i tasti freccia sinistra e destra si porta il punto di esecuzione del brano indietro e avanti di una misura, con Pag UP si fa partire il brano dall'inizio e con Esc si mette in pausa. E' possibile creare loop, ascoltare il metronomo, vedere le sigle degli accordi sopra il testo.
Songsterr si propone si diventare un Guitar Pro online, e tra gli strumenti che verranno presto integrati nella suite online, c'è la possibilità di editare la partitura, quindi scrivere le proprie canzoni, ottenere indicazioni sulle diteggiature degli accordi e registrare la propria voce come mp3.
Via | MyFedz.com