Evidenziare del testo in una pagina con The Awesome Highlighter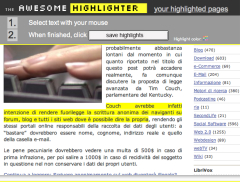 Ci capita spesso di mandare un link ad un amico per email, instant messenger o servizi come Twitter per segnalare una notizia, qualcosa di interessante che abbiamo letto.
The Awesome Highlighter consente di evidenziare del testo in una pagina web, come faremmo su un testo su carta con un pennarello, e di condividere il nostro lavoro con amici sul web. Il funzionamento è piuttosto semplice. Basta inserire l'indirizzo web della pagina interessata e questa sarà caricata all'interno dell'editor di The Awesome Highlighter consentendoci di evidenziare del testo selezionandolo col mouse, con la possibilità di scelta del colore. Terminato il lavoro ("save highlights"), otterremo un link "corto" stile tinyURL che potremo copiare e mandare ai nostri amici. E, per gli amanti di Twitter, è possibile mandare il link ottenuto direttamente dal sito. I nostri amici quindi visualizzeranno nel loro browser la pagina con il testo evidenziato.
Un buon sistema se si vuole focalizzare l'attenzione su determinati argomenti in pagine enormi come spesso sono, per esempio, quelle di Wikipedia.
Via | FeedMyApp.com