Il museo di arte moderna di New York mette in mostra Google Moon e Google Mars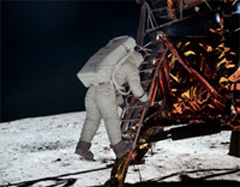 Il New York's Museum of Modern Art, ha deciso di includere nella mostra Design and the Elastic Mind, che inizia il 24 Febbraio e termina il 12 Maggio, i prodotti Google Moon e Google Mars, riconoscimento dato per il modo creativo in cui design e l'innovazione sono stati messi al servizio della scienza e dell'ingegneria.
Google Moon fu realizzato sulla scia della decisione del governo americano di tornare sulla luna dopo ben tre decadi, in collaborazione con gli scienziati del NASA Ames Research Center, ed è stato presentato da Google come un nuovo eccitante modo di esplorare le varie tappe della missione Apollo che portò l'uomo sulla luna. Google Mars, creato in collaborazione con NASA researchers dell'università dell'Arizona, è considerato una delle più dettagliate mappe scientifiche di Marte mai progettate e portate a termine.
Via | Moma.org