Ipoque: i dati del p2p e del traffico Internet in Europa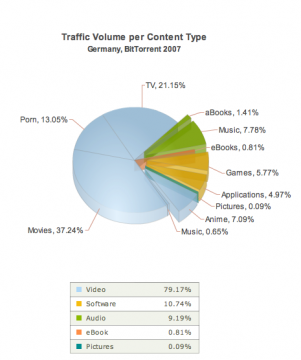 The Register segnala qui la pubblicazione di un report tedesco sul traffico Internet, di cui aveva anticipato qualcosa in settembre Punto Informatico (evidenziando il peso spropositato del peer to peer rispetto agli altri protocolli per lo scambio di dati in rete, con l'Italia fermamente ancorata alla rete del muletto rispetto a sistemi più moderni come Bit Torrent).
Lo studio ha coinvolto diverse aree geografiche diverse dagli USA, con un totale stimato di un milione di persone, con rilevazioni tra l'estate e lo scorso settembre. Circa la metà dei datio analizzati son stati identificati con una categoria precisa di appartenenza.
Il p2p è stato valutato il 49% del totale in Medio Oriente e l'84% in Europa dell'Est, con un picco notturno che arriva al 95%. La Gran Bretagna mostra un valore doppio rispetto al 20% di dati che già circolano in forma criptata sulle reti p2p. Il Medio Oriente risulta più interessato allo scambio di e-book e l'uso di Instant Messenger è quasi quattro volte superiore a quello di altri paesi come la Germania.
Complessivamente Bit Torrent assomma i due terzi del traffico, mentre eDonkey rimane sotto al 30%. Terza o quarta posizione a sorpresa per i Direct Download Link, ossia i siti per scaricare grossi file con metodo 1 click, come Rapidshare e Megaupload o Zshare e Divshare: questi servizi sono usati dal 10-17% degli utenti a seconda delle zone geografiche. Per i tipi di file, con Bit Torrent si scarica prevalentemente video (i programmi TV superano il porno), mentre il Sud Europa e l'Italia mostrano una componente più forte di software e videogiochi.