Yahoo! Messenger va sul web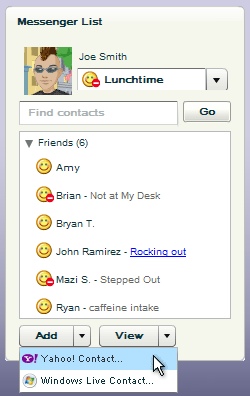 Yahoo! ha lanciato oggi la beta di Yahoo! Messenger for the Web, un servizio del tutto simile al Webmessenger di Msn e che serve per chattare nella rete Yahoo! anche quando si è fuori casa e non si ha la possibilità di installare il software dedicato.

Un servizio utilissimo soprattutto per gli studenti che si collegano dall'università o i viaggiatori che utilizzano spesso gli internet point o, ancora, tutti coloro che (in ufficio ad esempio) non possono installare Yahoo! Messenger.

Utili la funzione di archiviazione di tutte le proprie conversazioni e la possibilità di utilizzare finestre di chat multiple. Per il momento gli utenti italiani non possono ancora utilizzare il servizio: inserendo user&pass di un account Yahoo!Italia, si viene infatti rimandati a una pagina che spiega che il servizio è in arrivo.

Yahoo! Messenger for the Web è compatibile con Firefox, Safari, Internet Explorer e Opera.