The Venice Project evolve: la tv del futuro si chiamerà Joost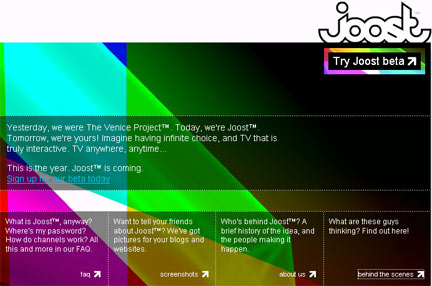 Vi ricordate di The Venice Project, la nuova televisione online ideata da Niklas Zennstrom e Janus Friis?
Dimenticate quel nome perchè da quando stanotte un utente si è imbattuto (per caso, visto che porta lo stesso cognome) su Joost.com, ha scoperto che il Venice Project aveva cambiato casa.
Il fatto è che quindi quello che sembrava essere il nome definitivo del progetto è stato sostituito con uno più breve: una operazione di branding decisamente singolare ma che fa pensare che siamo finalmente vicini ad un lancio di dimensioni maggiori rispetto alla piccola fase iniziale di beta testing.
Quello che vedete è il nuovo sito da cui potete iscrivervi per partecipare alla fase di test: per chi non avesse ancora visto l'interfaccia di questo software c'è anche una galleria di screenshot.
[via NewTeeVee]