Twitter è down e non funziona nemmeno in versione mobile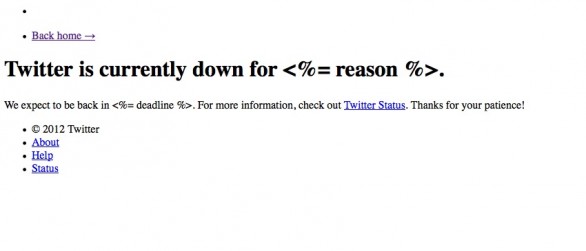 Aggiornamento delle 19.30: Twitter sembra aver risolto tutti i suoi problemi: le funzionalità del social network appaiono ripristinate. La risoluzione, però, non è stata ancora comunicata ufficialmente.
Twitter è di nuovo down ovunque. Non funziona alcun tentativo di accesso (a quanto pare, con qualunque device, anche attraverso gli smartphone, dunque). Per parecchi minuti è stato impossibile accedere a qualsiasi contenuto del popolare social network: i browser rimandavano un semplice messaggio d'errore, come se la homepage non fosse mai esistita.
Al momento, invece – segno che qualcosa si muove –, digitando www.twitter.com sul vostro browser appare la schermata che vedete in alto.
Vi si legge:
«Twitter is currently down for .

We expect to be back in . For more information, check out Twitter Status. Thanks for your patience!»
Come si può notare, non si conosce la ragione del problema, né, come potete vedere dall'immagine, in quanto tempo verrà risolto. L'ultimo down di Twitter si era registrato lo scorso 21 giugno 2012.

Su status.twitter.com, il solito messaggio informa gli utenti dei problemi.