Torrentisti in lutto per la chiusura di Piratebay.org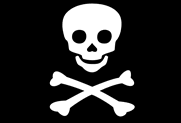 Poverini, quelli di Slyck: la notizia che i server di The Pirate Bay sono stati sequestrati è stata ripresa da Slashdot, Digg e Reddit. Immagino che il server sia scomparso in una nuvola di fumo.
Tornando alla notizia: The Pirate Bay, la maggior directory di torrent europea è scomparsa dalla rete, dopo un raid della polizia svedese (50 poliziotti!). Ora si attende una mossa analoga nei confronti di Mininova, l'altra directory curiosamente longeva.
Pirate Byran (il partito dei pirati svedese) ha creato un blog per aggiornamenti sugli sviluppi del caso.