Londra: la protesta corre su Twitter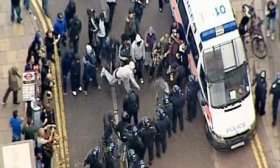 Lo abbiamo visto già utilizzato nelle rivolte nel nord Africa (qui una bella riflessione sul tema), ma questa volta l'utilizzo di twitter nei tumulti lo troviamo a Londra. Vari sono gli hashtag utilizzati sia per informare le persone, sia dagli stessi rivoltosi per organizzarsi: #tottenham e #londonriots i più utilizzati.
Pare che i 'rivoltosi' siano poche centinaia, ma ben organizzati ed equipaggiati - i motivi della protesta sono di origine religioso-razziale ed i primi tumulti sono sorti in seguito all'uccisione di un giovane nero da parte della polizia negli scorsi giorni.
Mentre Londra teme l'arrivo di una nuova notte - 2 sarebbero i poliziotti in gravi condizioni - il suo primo ministro Cameron si trova attualmente in vacanza in Italia ed i vertici di Scotland Yard sono tuttora vacanti dopo le dimissioni dovute allo scandalo News of The World. Per info in continuo aggiornamento utilizzate il servizio search di twitter.
Via Guardian.co.uk
Foto Guardian.co.uk