140Blood, un gioco di ruolo fantasy basato su Twitter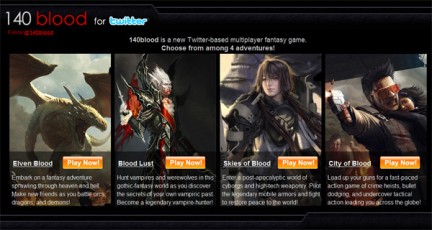 World of Blood era un'intera saga di RPG online basata su piattaforma Facebook: con 4 titoli, è stato a lungo uno degli sviluppatori per Facebook di maggior successo, con più di 240.000 giocatori attivi sulla lunga distanza solo per uno dei 4 giochi, Elven Blood.
Solo, a partire da aprile 2009 tutte le applicazioni World of Blood sono state bandite da Facebook, per via di una violazione dei termini di servizio per gli sviluppatori (soprattutto il sistema di notifiche faceva spam da tutte le parti). Questo, nonostante un gameplay di sicuro appeal.
Tre mesi dopo, la saga cerca di assumere una nuova forma su Twitter, con 140Blood. Certamente non sarà la stessa cosa dal punto di vista della ricchezza dei profili dei personaggi, della vivacità dei combattimenti, e via discorrendo, ma almeno qui non ci saranno troppi limiti e regole. Tutto parte con un tweet in cui, automaticamente, annunciamo ai nostri follower di avere aderito all'impresa fantasy. Tutto il resto è un costante, pur moderato tweet spam, che forse costringerà i più rispettosi degli utenti a creare ad hoc appositi solo per giocare.